TSB Bank
TSB is proudly 100% New Zealand owned, which means their profits stay right here in NZ. We're the country's best bank for customer service, too. You really don't need any more reasons to choose TSB!

Our goal is to help New Zealanders get ahead, and we make decisions in the best interests of our customers every day to make that a reality. Putting our customers first is just as important today as it always has been – that's how we've stuck around for 170 years.

Make an enquiry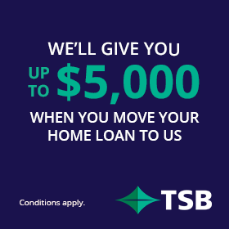 Special

- Up to $5,000 Cash Contribution

EXCLUSIVE OFFER FOR HOME SHOW ATTENDEES: Get up to $5,000 when you move your home loan to TSB. We'll also match any advertised home loan rate from ASB, ANZ, BNZ or Westpac. Conditions apply
Conditions
o Until 31 January 2021, a cash incentive of up to 0.80% of the total loan amount, up to a maximum of $5,000 could be available. We'll also match any nationally advertised fixed home loan rate from ASB, ANZ, BNZ or Westpac for the same term and conditions, subject to the borrower meeting TSB's lending suitability and affordability criteria. This offer is only available to Home Show attendees or database. Available to direct applicants and new customers only o The offer only applies to the purchase, refinance from another bank or building of residential owner-occupied properties with an LVR under 80% and residential investment properties with an LVR under 70%. Additional margins may apply for bridging loans and buyers with less than 20% deposit. Cash incentive is only for new home lending, excluding top up and redraws. Minimum loan amount of $200,000 applies. Penalties apply for loans refinanced to another lender within 48 months of drawdown. If refinancing happens within the first 24 months, then 100% of the value of the incentive will be repayable to the Bank. If refinancing takes place between 25-48 months, then 50% of the value of the incentive is repayable. o A minimum deposit of 20% is required for home loan special interest rates and residential loans. Residential loans with less than a 20% deposit are subject to availability of funds. If the bank accepts a loan application that falls outside normal lending criteria, a risk-based premium of up to 2% may be applied. A fixed loan prepayment fee may apply on fixed rate loans. All interest rates are subject to change without notification. Different lending criteria applies for residential investment, business, commercial and rural loans. Standard lending terms and conditions apply. o Loans must be contracted during the campaign period and drawn down within 60 days of contracting. TSB's standard lending criteria, terms and conditions and fees apply. Inclusion of loans with special conditions attached is at TSB's sole discretion. Direct credit of wages or salary is required. All interest rates and offers can be changed or withdrawn at any time without notice. You'll find a Disclosure Statement here.
More information